Whether you are an absolute beginner or an advanced painter, come and enjoy a week or 2 of art classes in Paris. The Sornas school is one of the oldest art schools in Paris.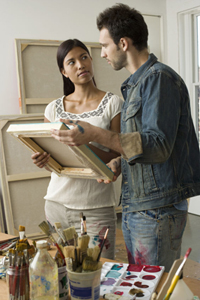 The one-week art workshop is an intensive course that will allow you to learn or perfect your artistic skills. Teaching is adapted to the level of each student, from absolute beginners to advanced. Classes are taught in French and English.
Our drawing and painting courses are designed around the traditional techniques of observation and reproduction of real life. Our instructors are talented artists and educators who have a desire to inspire each student, and to develop your creativity while respecting the student's personality.
It is an ideal artistic immersion in Paris : you will discover the various aspects of the city, thanks to a different program every day (gardens, bridges on the river Seine, market, gothic church or modern architecture, fountains, etc.). You will also enjoy the Parisian ambiance, while getting to know the other participants in cafés and restaurants…
Organization of the day : lunchtime is free, but the teachers will be happy to show you around and make you discover charming little cafés and bistros !
The groups are limited to 12 people, allowing everyone to have individual attention and step by step instructions.
We will help you create pieces of work using various techniques :

- DRAWING (Dessin)
Pencil drawing, Charcoal, Chalk, Pen and ink (encre), Crayons…
- WATERCOLOR (Aquarelle)
Wet watercolor, Dry watercolor
- PASTEL (Dessin au pastel)
Soft pastel ,Oil pastel
- OPAQUE WATERCOLOR (Gouache)
- ACRILIC (Peinture acrylique)
Dates available :

We propose week-long art classes (Monday through Friday) from June thru August .


Weekly Schedule :

The lessons follow the schedule below. As the lunchtime is free, you may choose to discover the local restaurants on your own or with one of the instructors whom would be delighted to join you!
ART WORKSHOPS


Monday

Tuesday

Wednesday

Thursday

Friday

9:30am-12:30pm

Still life (method to be chosen by each student)

Still life

Perspective and depth principles

Still life

Still life

1:30pm-4:30pm

Visit of the Louvres (sketchbook – art history)

Plaster cast study

Walk in Paris, field drawing (building or bridge)

Life drawing

Walk in historical Paris and course about the city's history. Field drawing
Note : This schedule is not a legally binding document, and its organization might change depending on weather and availabilities in museums.

Tuition:

One-week art class: $900
Two-week art course: $1600

Art supplies included. We recommend you bring a painter's blouse and a notebook. Admission fees for museums and landmarks included. Meals, lodging and transportation not included, however hot beverages and snacks will be at your disposition on site.
BOOK ONLINE